Welcome and thanks for visiting TheGiantAgave
(Updated 04/18/2004)Dedicated to the agave, this reference page owes a very special thanks to the other agave sights that inspired me to create this page connecting them all. Help yourself to links of other enthusiasts, gardens, nurseries, as well as a few nice cacti sites I've listed. The A-Z images are from many of the sights listed except for a few of my own garden pics. The nostalgic postcard images are my own collection. Put them on your desktop, hang them on the wall, anything you want! This is a free sight for the love and education of the wonderful agave.
CLICK on all the images on this page, they all have a full size to them!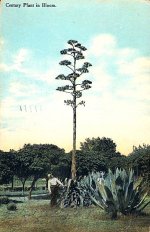 Leave a message in the Guestbook
Postcards
Nostalgic postcards from my collection. Thanks be to Ebay, I spend way too much time buying things I don't need. These postcards, however, are the best time spent! Most of these cards of agaves and desert scenes are from the 50s some earlier.
ENJOY!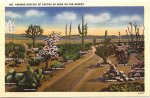 Better Road & Garden pics
Pics from my old home garden

Just blooms